You want to reopen your organization. You want to keep your employees and customers safe. You need to be compliant with OHSA regulations. You want your business to return to "normal." The bottom line—you want to be as safe from COVID-19 as possible. But how?
Chances are you are thinking about a lot of unknowns. Who can open now? What about in Phase 2? What happens if my organization isn't compliant?
Running a business has never been easy. COVID-19 has created new obstacles for employers to be safe and successful. But how do you know you are taking the right steps? How do you know if you're asking the right questions?
As an employer and decision maker, there are critical questions you need to ask. We've compiled a list of the ten questions we think are the most critical to answer in order to operate your business successfully during this pandemic. Even if you've already reopened your organization or never had to close in the first place, we hope you ask—and answer—these questions as well.
Have I done a risk assessment?
This is a crucial step. After all, how can you increase workplace safety if you don't fully understand which hazards you need to eliminate or control? A risk assessment is the best way to assess the hazards and dangers in your workplace.
Being prepared can seem costly but a proper risk assessment (and, of course, addressing those hazards) will save you money down the road. Even if your organization completed a risk assessment in the past, with the COVID-19 pandemic, you're due for a new one. Make sure it's done right.
What would I do in the event of a workplace outbreak?
This is a concern that we definitely hear. Preparing your organization for when an employee tests positive for COVID-19 or even an eventual outbreak before it happens is critical. You need to have a plan in place that includes your protocol for any affected employees, communication to other employees, sanitization, physical or social distancing, and more.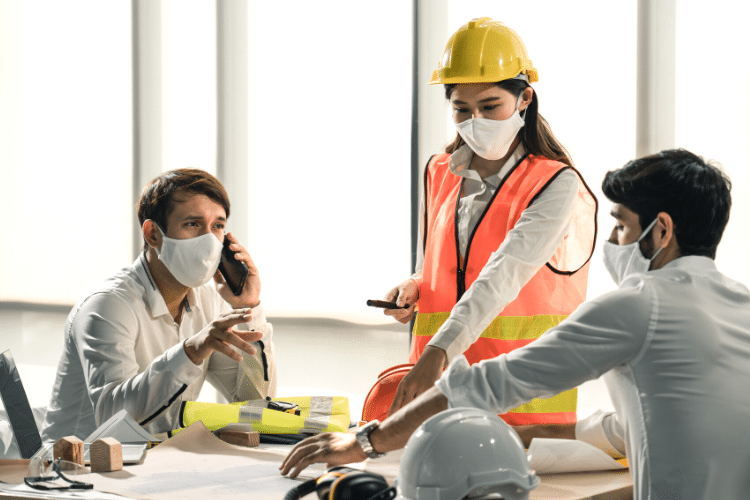 Do my employees and supervisors need additional training?
The short answer is likely, "yes." But what training? What do they need to know? How can you prepare them and support them? You're going to need to identify any additional training all of your employees may require. This could include training them on:
Changes to cleaning and sanitization protocols due to COVID-19
New software required by the shift to remote work
Respirator protection including how to properly don and doff a mask
Prevention measures such as hand hygiene and resources for self-assessment
There's a good chance that the tasks for many of your organization's roles are going to change as required by new, COVID-19 safety procedures.
Do my supervisors and I know what to do in the event of a work refusal?
Although you might not know it, the Ontario Health and Safety Act (OHSA) outlines the exact steps that employers and supervisors are required to take in the event of a work refusal. 
If you aren't already familiar with the steps, you should check out our article "What To Do When Your Workers Refuse To Work." There's also a free, downloadable flowchart at the end of the article that shows each step of the process and what comes next.
Do my employees need additional PPE to work safely?
Different jobs require different personal protection equipment (PPE) to help stay safe. COVID-19 hasn't changed that. But it may have changed risk factors associated with job tasks and what equipment your employees need. Do they need to now wear respirators? Other masks? Gloves?
Your organization might also need to resupply PPE or cleaning products more often as your organization's usage increases. For example, we recommend keeping a 30-day supply of hand sanitizer at all times due to a global shortage. And increased usage of hand sanitizer means you'll need more stock than you did pre-COVID-19. The "new normal" will likely mean having hand sanitizing available at entrances and "high touch" areas.
If you already know what your organization needs, including everything from hand sanitizer to wipes to masks, check out our Safety Shop for in-demand safety supplies.
Do I need to screen my customers or employees for COVID-19?
Can I take customer's temperatures? What if an employee has a high fever? How can I tell if someone has COVID-19?
You are going to need to continually follow changing, current best practices from local and federal health and governmental agencies. 
Some organizations have already started taking temperatures for anyone entering their business. Again, it is paramount that you follow the latest advice and recommendations from reliable health and governmental agencies. Currently, the Public Health Agency of Canada (PHAC) does not recommend taking temperatures to screen as temperature is not an accurate indicator of who might have COVID-19.
We recommend developing a questionnaire as part of your organization's health screening program.
How will I stay up to date with the latest developments and recommendations?
It's a great idea to create a Pandemic Response Team comprised of employees across departments. We recommend assigning someone on your team as a "point person" to monitor the latest developments. Here are a few key websites and resources to check regularly for current guidelines: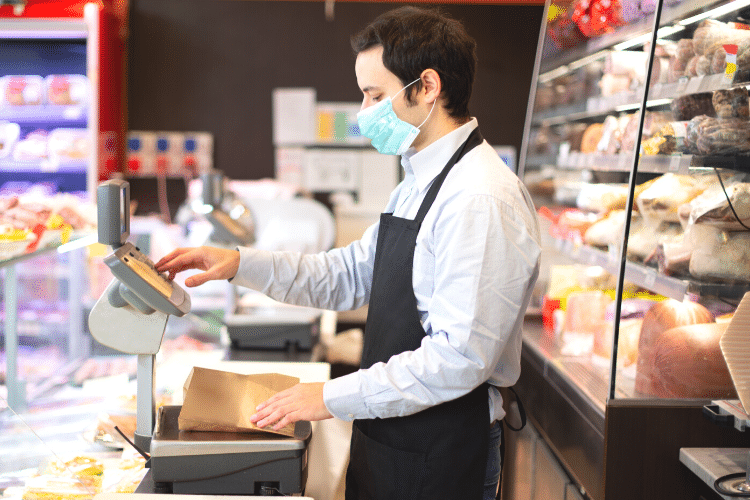 What policies do we need to update?
Chances are you are going to need to update a lot of your policies. For example, be prepared to review your organization's travel and sick leave policies. And if you haven't put your organization's policies into writing, now is definitely the time to get started. You'll also need to create a solid communication plan that ensures all of your employees understand all policy changes.
How will everyone maintain physical distancing?
Physical distancing requires maintaining a distance of about two meters between people. That's easier when you're having a little lawn party or going for a walk. But what about a tiny retail store? Or an assembly line where workers normally work very closely together?
What is my return to work plan?
It would be nice if these were easy questions to answer. It would be nice if there was a one size fits all solution. The reality is many of these questions are hard to answer. Every organization is different. The cleaning needs of a dentist's office are different from a foundry floor. The PPE retail cashiers need are different from someone working in an automotive assembly plant. 
Every business leader should be asking the above questions and doing everything they can to get the best opinions available to answer those questions.
We can help answer these questions for you. 
OSG Pandemic Response Consulting is designed to help you figure out exactly what you need to be safe, compliant, and successful. Fill out the below form for a free discovery call and free quote to see if we're right for you.
Stay safe.