Beards and facial hair are a trend that is not going away any time soon—however, are they safe for the workplace?
While still popular, facial hair potentially poses a safety hazard for individuals who require respiratory protection at work. Improperly fitted respirators are unable to protect a worker from various airborne contaminants. But beards are not the only culprit; lack of airtight seal may also happen due to weight gain or loss, surgery to the jawline, facial jewelry, and corrective lenses to name a few. Unfortunately, a poorly fitting respirator is a common problem in workplaces trying to protect workers from respiratory hazards. 
Why worry about respiratory hazards? 
Respiratory hazards are those that may be inhaled by a worker. They include airborne contaminants such as gases, fumes, mists, biological contaminants, dusts, and/or oxygen-deficient atmospheres.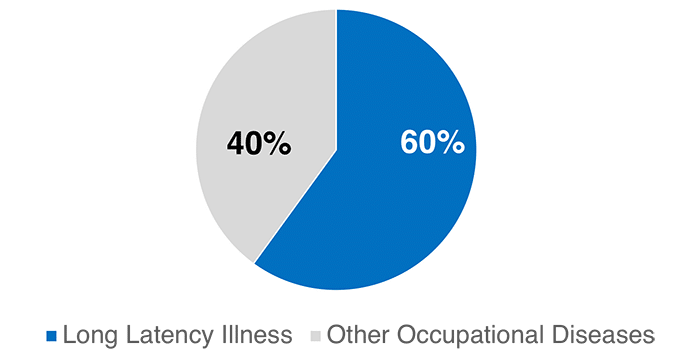 While they can often go unseen, they can still be extremely dangerous to the worker causing illness or even death when inhaled. According to Cancer Care Ontario and the Occupational Cancer Research Centre, approximately 1,300 cancer cases per year in Ontario are related to exposure to asbestos, diesel engine exhaust, crystalline silica and welding fumes.1 
Furthermore, between 2008 and 2017 long latency illnesses accounted for the largest percentage of allowed Workplace Safety and Insurance Board (WSIB) costs. While these claims make up a small (3%) portion of all claims, they are very expensive to manage due to their detrimental effects on the worker. The majority (70%) of the claims associated with respiratory hazards are made up of:
Lung cancer
Mesothelioma
Pleural plaques
Chronic obstructive pulmonary disease
Employers and workers should be warned that workplace illnesses caused by airborne contaminants can take years after exposure to manifest and are referred to as long latency illnesses. 
What can you do to protect workers from respiratory hazards?
It's essential to assess your workplace for respiratory hazards on a continuous basis as job processes and environment may change over time. It is also imperative to regularly assess your respiratory program and train your employees accordingly. 

1. Complete a Hazard Assessment
Start with a hazard assessment as this will help you identify what contaminants are present in your workplace. Your assessment should account for the following:
The contaminant needs to be identified and its state assessed—gas, vapour particle, bioaerosol, etc.
Identify how the new hazard was introduced
Determine what materials are used, processed, or stored. Are there any end-products, by-products, or waste?
Document all of your routine and non-routine processes
Consider what happens during breakdowns, equipment malfunctions, spills, and emergency rescue operations
The assessment should also consider the length of time the respirator must be worn and the physical demands placed on the worker. Once contaminants are identified, occupational exposure limits need to be determined.
 A qualified health and safety consultant can help with your hazard assessment.
2. Eliminate the Contaminant
The most effective defense against respiratory hazards is to control the contaminant at the source and prevent it from entering the air. This may involve isolating or enclosing the process generating the contaminant or, ventilating the contaminant, and monitoring the ventilation system.
3. Provide Respiratory Protection
When controls at the source do not eliminate the contaminant or when they are not feasible, respiratory protection is required. Depending on the contaminant and level of exposure, respiratory protection may include:
dust masks
supplied-air systems
self-contained breathing apparatus
4. Provide Training 
Prior to using respiratory protection, respirator protection training and fit testing are essential for proper respirator use. This training is much more than, "Here it is, this is how you wear it. So wear it." Employers must educate supervisors and workers on how to select, use, and maintain respirators. Another key element for workers and supervisors to understand are the limitations of this kind of personal protective equipment. 
The training program must be comprehensive enough for the worker to demonstrate knowledge of:
the limitations and capabilities of the respirator
why the respirator is necessary
how improper fit, usage, storage or maintenance can compromise the respirator
how improper respirator or maintenance may cause overexposure
Workers must also understand that continued use of poorly fitted and maintained respirators can cause the previously mentioned long latency illnesses.
OSG offers both online respirator training and fit testing.
Or, if you are looking for more information on fit testing, please see our helpful FAQ "Everything Employers Need to Know About Respirator Fit Testing."

5. Ensure Proper Fit of Respirators 
One size doesn't fit all! Different types of respirators and different brands of the same type of respirator fit differently. Workers need to be provided with a sufficient number, types, and sizes of respirator models to ensure the greatest opportunity for the correct fit. 
And what about those sporting a beard? As per the CSA Standard Z94.4-18 Selection, Use and Care of Respirators, "Individuals shall present themselves for fit testing free from the interference of hair where the respirator seals to the skin of the face or neck." 
The bottom line—tight-fitting respirators will not work without a tight seal between the facepiece and the user's face. Meaning—beards and facial hair can negatively affect the fit and leave workers unprotected.
6. Review Your Respiratory Program 
A strong respiratory program is the one that is regularly assessed and reviewed. As per the CSA standard, your program should be comprised of:
Designated roles and responsibilities
Hazard assessment
Respirator selection
Training and fit testing
Respirator use, inspection, cleaning, maintenance, and storage
Health surveillance
Program evaluation
Recordkeeping
Employers need to ask themselves whether or not their respiratory program is effective. And they need to ensure that they have measures in place which will indicate if it is not working. This is why a monitoring system with performance measurements is an imperative element of the program. 
Supervisors and Joint Health and Safety Committee members also play an important role in the success of the program. They need to be able to confirm that:
all workers using respirators have been trained on respirators
fit tested and retesting occurs every two years
respirators are being worn properly
respirators are maintained in accordance with manufacturer's instructions
all written manufacturer's instructions are maintained and available
If your organization requires fit testing or if you are looking for additional information please fill out this form and you will be contacted within one business day.
Source: