JHSC Meeting Minutes
Minutes of each JHSC meeting must be recorded and available for review by a Ministry of Labour inspector according to subsection 9(22) of Ontario's Occupational Health and Safety Act.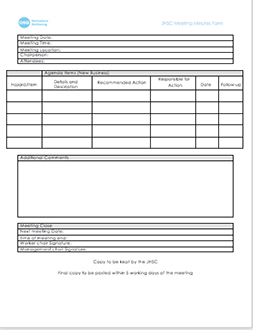 Includes space for:
Meeting date, time, location, and attendees
Agenda items
Recommended actions and action Owners
Additional comments
Signatures
Download for free
Fill out the form below to access the JHSC Meeting Minutes Template. You will be able to instantly download the Word Document from your browser for free, no strings attached.