The world of workplace health and safety is always evolving, but we can probably all agree that COVID-19 has caused some of the most significant shifts in workplace safety. 
The pandemic has forced organizations in every industry to rethink how they keep employees safe in the face of new risks. It has also made staying up to date with new regulations and best practices challenging. 
This article will focus on some of the most important health and safety trends to keep your workplace safe and compliant. 
COVID-19 workplace safety plan
In Ontario, all operating businesses must have a written workplace safety plan by law. This plan should identify the risks of COVID-19 in your workplace and document the steps you will take to reduce these risks.  
Your plan should also address the following questions: 
How will you make sure employees know how to keep themselves safe from exposure to COVID-19?

How will your organization screen employees and visitors for COVID-19?

How will you control the risk of transmission in your workplace?

What will you do if there is a potential case of COVID-19 at your workplace?

How will you manage any new risks caused by changes to the way you operate your business?

How will you make sure your plan is working?
The hierarchy of control is a useful tool to get your plan started. Applying the hierarchy of controls to COVID-19 hazards will help you determine which controls will be the most effective for your organization. Remember, the higher the control, the more effective it is. 
You'll notice that although personal protective equipment (PPE) has become a regular part of workplace protocol for many organizations, it should be a last resort when it comes to controlling hazards. 
Once you have a documented plan, you should: 
Share your plan with employees, supervisors, JHSCs members and get their feedback
Review and update your plan regularly
Post your plan where it can be easily seen
Be ready to share your plan with anyone who asks to see it
You can find more information to help your organization develop a workplace safety plan on the Government of Ontario's website. 
Online or virtual health and safety training 
Providing your employees with proper health and safety training is a key component of maintaining a safe and compliant workplace. But lockdowns and physical distancing measures have made traditional in-class training challenging. 
Virtual training is quickly being adopted as a safer and more convenient way for employees to complete training. Depending on the type of training, online courses may be facilitator-led or self-paced.
Regardless of whether your employees are remote or on-location, virtual training is a great option because of the many benefits it offers: 
Allows for physical distancing and reduces the risk of transmission
Reduces time and money spent on travel
Can be taken anywhere with an internet connection for increased accessibility
As the Government of Ontario expands its workplace inspections to further protect employees and customers from COVID-19 risks, it's never been more important to ensure that everyone in your organization understands their health and safety responsibilities and how to fulfill them.
You can learn more about the types of courses offered in the virtual classroom by visiting our distance learning calendar.  
Psychological safety and mental health recognition 
More and more employers are recognizing their responsibility to protect the mental health of their employees and provide a psychologically safe work environment.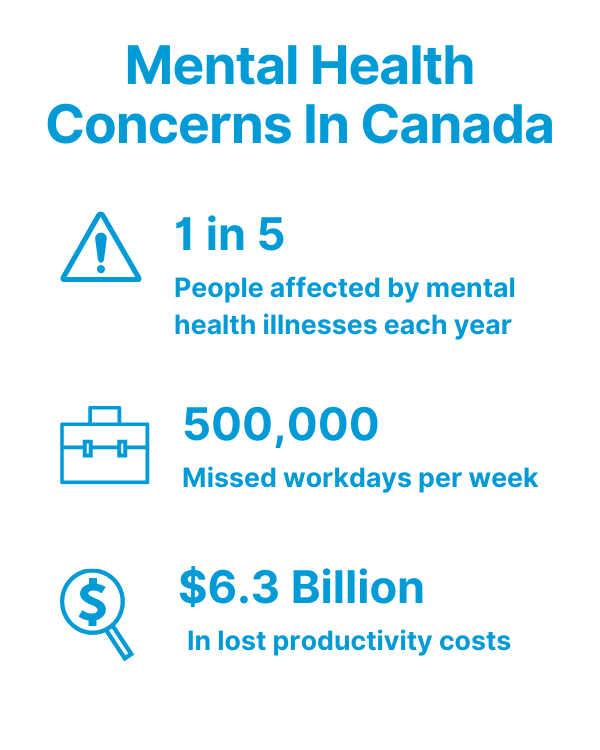 Overlooking the importance of workplace mental health can be costly to everyone. Every week, 500,000 Canadians miss work due to a mental health concern resulting in $6.3 billion in lost productivity.
The heightened stress that the pandemic has created specifically for healthcare and frontline workers, has further emphasized the importance of addressing psychological hazards.
Remote work has also created a unique set of mental health challenges related to work-life balance and the loss of workplace belonging and social interaction. 
Even once the pandemic ends,  psychological safety will continue to be an important issue. To have a comprehensive approach to workplace health and safety, organizations need to address how fear and anxiety impact their employees' health and ability to perform their job. 
Here are some ways that organizations can make mental health part of their safety culture: 
Provide mental health training to supervisors and managers
Provide employee assistance programs, community resources, and online tools
Keep leadership and their JHSC committee informed of mental health hazards that could affect employees
Ensure workplace violence and workplace harassment policies and programs are in place and share information about policies and programs with employees
Health and Safety Consulting
The pandemic has forced many organizations to completely rehaul their health and safety policies. From enhanced cleaning practices to re-opening procedures, it can be challenging to understand how new requirements apply specifically to your organization.
Employers are looking to health and safety specialists to provide help develop new policies and provide consulting on: 
Work refusal procedures/resolutions
Workplace policy review and recommendations
Many organizations will also collaborate with these professionals when deciding what their post-pandemic health and safety guidelines should look like.  Learn more about our consulting services and how they can help your organization. 
Policies for Shared Spaces 
In Ontario spaces such as lunchrooms, breakrooms, and change rooms are areas of concern when it comes to COVID-19 transmission within the workplace.
Because employees spend "off-the-clock" time in these spaces and they are not open to the public, they are often unsupervised.
These high-risk areas have become a focus for inspection blitzes in Ontario so it is important to develop clear policies for using these areas. Your policies should provide guidelines on how many people can use the space, how it will be cleaned, and mask use. 
The Government of Ontario also has several suggestions for how to make these shared spaces safer, including: 
Ensuring HVAC systems are properly maintained
Keeping windows open as much as possible
Using alternative outdoor spaces if available
Setting up furniture to allow for physical distancing
Providing visual markings to direct the flow of people
Employers, supervisors, and employees all have a role to play in maintaining the safety of these shared spaces. To encourage everyone to follow the health and safety guidelines, consider putting up the following posters provided by the Ontario Ministry of Labour, Training and Skills Development (MLTDS):
Break poster

Lunch poster

Keep it to yourself poster

 
MSD Awareness and Ergonomics Training  
Remote work means that employers have less control over their employees' work environment. It can be challenging to meet ergonomic requirements when employees are working from home. It can also be easy to overlook them. 
Poor ergonomics can result in Musculoskeletal Disorders (MSDs). Not only are MSDs the most common workplace injury in Canada, but they're also one of the most expensive, costing Ontario employers hundreds of millions of dollars in lost productivity and absenteeism each year. 
As working from home becomes a new norm, there is a growing need for employers to address MSD risks that could affect remote workers. 
To help employees make their home offices as ergonomically correct as possible, consider: 
Creating written or video resources on proper workstation set up with the help of a specialist
Working with an endeavour ergonomic specialist to conduct remote assessments
Providing ergonomics training to all employees
PPE Education 
By now, all of us are familiar with using face coverings as a way to prevent the transmission of COVID-19. But masks, face shields, and respirators are relatively new requirements for many organizations. 
What type of face-covering should be used? How often should masks be changed? What happens when an employee or visitor is medically exempt from wearing a mask? These are just a few of the questions everyone in your organization should know the answers to. 
Employers should educate themselves on proper mask use and how to choose the right PPE for their employees. Using a health and safety consultant and being aware of local health unit requirements and provincial regulations will help employers make educated decisions about their workplace mask policies. You can also read our article Everything Employers Need to Know About Respirators and Masks. 
The effectiveness of a mask depends on if it is being used properly. It is important to make sure employees are trained on the type of mask they are using and any limitations it might have.  
Mask best practices include: 
Inspecting the mask for tears or holes before each use
Replacing damp or dirty masks
Cleaning hands with soap and water or hand sanitizer before touching the mask
Avoiding touching the part of the mask that covers the face
Learn more about using masks in the workplace on the Government of Ontario's website.
Conclusion 
The pandemic has highlighted the importance of prioritizing workplace safety. But as we move out of the pandemic, it's important to keep in mind that health and safety is an ongoing endeavour that requires: 
Open collaboration between employers, employees and JHSC members
Continuous health and safety training
Building employee wellbeing, including mental health into the corporate culture
Frequent review of and improvement to existing health and safety procedures
Organizations that continue to focus on creating workplaces where employees feel safe and valued will be better set up for future success. At OSG, we offer a variety of tools and services to help you improve your workplace health and safety. Check out our upcoming virtual training dates or learn about our award-winning consulting.