Imagine an investment that protects people's lives and provides a return of 114%. It might sound too good to be true, but a recent study of employers in Ontario estimates that the average financial return among large Ontario employees in three important economic sectors varied (by sector) from 24% to 114%.
The study examined employers with strong occupational health and safety performance in three sectors: manufacturing, construction, and transportation. Researchers found that all employers in the study had lower-than-average injury rates due to their investments in injury and illness prevention.
The financial benefits were calculated by comparing the employers' injury rates to their sector average and determining the injury costs that the employers avoided due to their health and safety investments.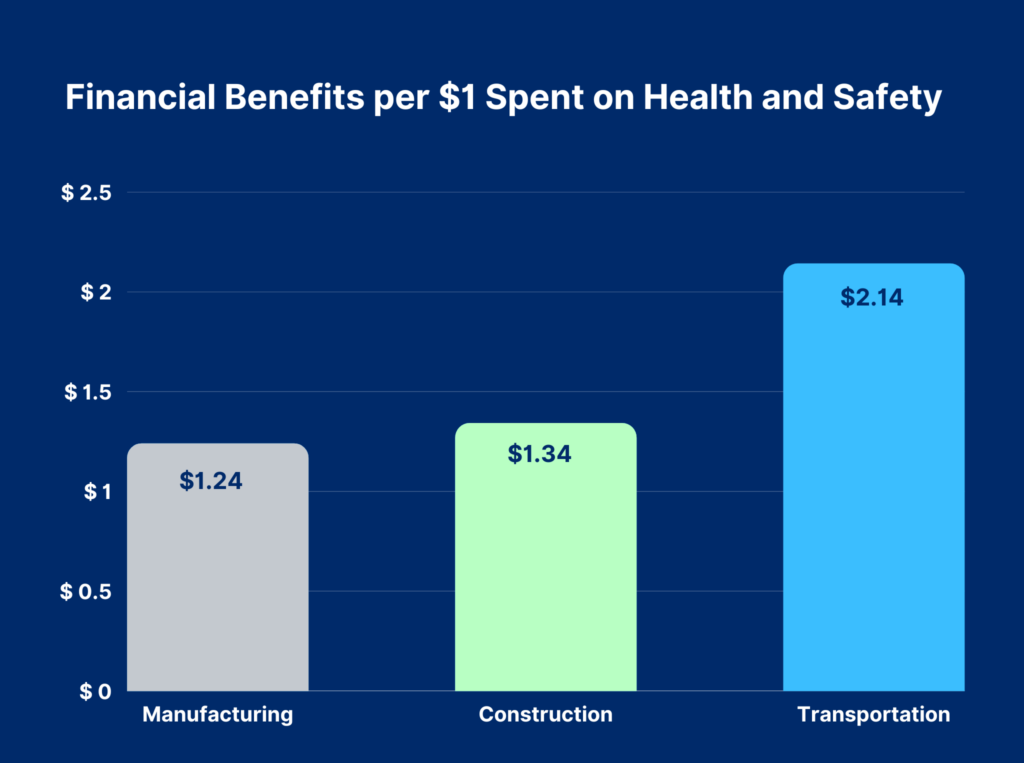 For every dollar spent on employee health and safety:
Manufacturing employers get back an average of $1.24, yielding a return of 24%
Construction employers get back an average of $1.34, yielding a return of 34%
Transportation employers get back an average of $2.14, yielding a return of 114%
These financial benefits are based on conservative estimates of injury costs.  The study estimated indirect injury costs to be two times that of the direct costs, but previous studies have estimated indirect costs can be four times the amount of direct costs. This means that in many cases, the returns on injury prevention may be higher than the estimates provided in the study.  
The study also found that employers with strong health and safety performance may experience financial benefits from improved employee retention and morale, improved production quality, and strengthened corporate reputation.
Why determine your return on health and safety investments?
Above all else, protecting lives and preventing injuries is the most important goal and the most rewarding result of workplace health and safety efforts. Unfortunately, despite the immense benefits of keeping workplaces safe, the resources spent on health and safety are often seen as costs instead of investments.
Understanding the Return on Investment (ROI) of health and safety initiatives can help organizations make a case for continuing to invest in workplace wellbeing.
Determining the ROI of workplace health and safety is not always easy, but this article will provide you with guidance on:
Calculating the cost of injuries 
Knowing how much injuries cost is the first step in understanding the return on your health and safety efforts. Once you have this information, it's much easier to put a number to how much money health and safety initiatives (like training) are saving your business by preventing injuries. 
Using data from Workplace Safety Insurance Board (WSIB), the Institute for Work and Health estimates that the average cost of a lost-time injury could range from $117,000 to $234,000 depending on the industry sector. Below is a breakdown of this figure: 
$39,000-$78,000 in direct costs, such as premiums paid out by the WSIB and wage supplements covered by the employer.
$78,000-$158,000 in indirect costs to the company of the injured employee, including damaged property, hiring and training of replacement staff, administrative costs associated with injury investigations and compliance costs.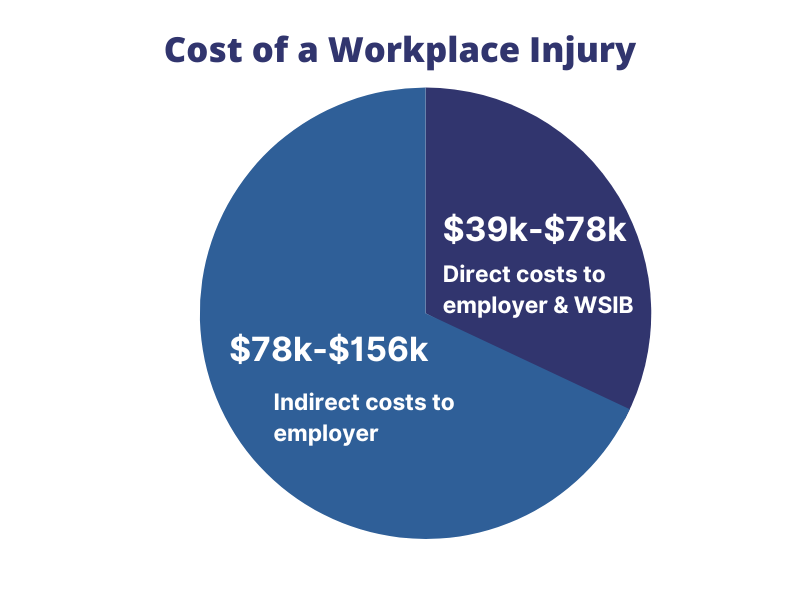 Keep in mind that these costs do not take into account the cost to the injured employee which can include loss of future earnings and long-term health effects. 
Depending on your organization, the cost of an injury could be lower or higher than the average. Costs can also change based on the type of injury. 
To get the most accurate injury cost for your organization, try the following exercise: 
1. Pick three of the most common injuries in your organization or industry. For example, the most common type of workplace injury in Ontario in 2022 was sprains and strains.
2. Work with your accounting and human resource teams to determine the individual costs for each injury type. 
To get the most accurate estimate, make sure you take into account all the possible costs associated with an injury. Here are some typical costs related to workplace injuries: 
 Property and equipment costs:
Repairing damaged equipment/machinery and property
Buying new equipment/machinery
Other modifications to the workplace
Administrative costs:
Managing the incident scene
Investigating the incident
Recruiting and/or training to fill the position of the injured employee
Employee-related costs:
Higher absenteeism
Higher turnover
Overtime wages to cover loss in productivity
Wage supplements for the injured employee
Wages for the replacement employee
Insurance and compliance costs:
Increase in insurance premiums
Legal costs and fines
Ministry of Labour, Training, Skills and Development (MLTSD) orders and fines
Once you know how much an injury costs your organization, you can use this figure to understand how much health and safety initiatives are saving your organization by reducing or preventing injuries. 
Where to look for health and safety ROI 
There are many financial benefits associated with improving workplace health and safety processes. Consider what happened over 13 years at Alcoa when the manufacturing shifted its approach to health and safety. When O'Neill became CEO of Alcoa in 1987, he declared the company's focus would be to strive for a goal of zero injuries and prioritize employee safety over profits. By 2000, the company's commitment to caring for its people led to results that gained attention from business leaders across the world:
Sales by 400%
Overall profitability improved by 14%
Productivity per employee improved 45%
Time lost to employee injury decreased by 85%
To calculate the ROI of your organization's health and safety investments, you'll need to know what your cost savings and financial gains are. Here are some places to look for results:
Reduced injuries 
One of the main goals of any health and safety program is to prevent injuries. Have injuries gone down since implementing a certain type of training or other health and safety measures? If so, you can use this formula to calculate the cost savings on injuries that your safety initiative has yielded:   

Here's an example of how to use the formula: 
The average cost of an injury to your organization is $117,000. Your new health and safety training has resulted in 5 fewer lost-time injuries than the previous year. 
5 x $117,000 = $585,000
In this example, your savings from reduced injuries would be $585,000. 
Increased productivity and decreased lost time
A strong safety culture makes for healthier and more engaged employees. A safe workplace can reduce stress and health risks and allow employees to focus more on the quality of their work and their productivity. A study of an Ontario textile plant showed that every $1 spent on ergonomics interventions provided a return of over $4 in health and productivity benefits.   
To measure increases in productivity, look for positive results in metrics like:
Amount of lost time
Number of sick days taken
Instances of modified work to accommodate employees recovering from injury or illness
Efficiency of operations
These metrics all have a direct impact on productivity so you can use them to show that your organization is losing less time to injury and illness. Learn more about ways you can measure productivity.
Reduced non-compliance costs 
If your workplace is found to be in violation of the OHSA or regulations by the MLTSD, they can issue ticket fines and stop work orders. On-site tickets for OHSA violations generally range from $250 to $350 for workers, $450 to $550 for supervisors and $550 to $650 for employers. 
The MLTSD may also initiate a prosecution for violations or failure to comply with an order. The maximum fines are:
$1,500,000 for corporations
$1,500,000 and/or imprisonment for up to 12 months for directors and officers of corporations
$500,000 and/or imprisonment for up to 12 months for all other individuals
By keeping your workplace safe and compliant, you can avoid costs associated with stop work orders, fines, and convictions. 
Lower insurance costs 
Investing in health and safety can also benefit your organization's bottom line by lowering insurance costs. 
For example, WSIB premium rates for Ontario organizations are determined by the following factors: 
Insurable earnings
Number of claims
Claim costs
Health and safety improvements that reduce injury risks can help decrease the number and cost of claims. In turn, this can lower your insurance costs.
Your premium rate is calculated using a rolling six-year period. So your 2022 premium rate would be determined in 2021 using the years 2015-2020. This means continuous improvement and long-term safety goals are important to see returns. 
Some health and safety incentive programs offer the potential for faster returns in the form of quarterly rebates on insurance premiums. For example, organizations that participate in WSIB's Health and Safety Excellence Program can earn up to 100% of their annual insurance premiums back for a minimum of $1,000 to a maximum of $250,000 in annual rebates.
Lower turnover costs
From recruiting to training, it takes a lot of time and effort to hire new employees. It's also expensive. According to some studies, it costs an average of $4129 and 42 days to hire a new employee. The overall costs of replacing an employee can range from 90 to 100% of their annual salary. 
The good news is that prioritizing health and safety can help you retain employees and lower turnover costs. A study by the University of Chicago showed that 85% of employees ranked workplace safety as first in importance among other items such as paid sick days and overtime compensation rates. 
Here are some items to track to report on the monetary benefits of your health and safety training: 
Hiring costs
Onboarding time and costs
Retention or turnover rate
Keep in mind not all benefits will have a dollar figure, but are still extremely valuable. Some intangible benefits of investing in health and safety include:
Improved employee morale
Long-term health of employees
Improved brand reputation and image
Attractiveness to potential employees
Improving your safety culture can also provide benefits that are difficult to quantify such as improved corporate image, attractiveness to potential employees, retention of existing customers, and attractiveness to shareholders. Although it may be difficult to tie an exact dollar amount to these benefits, it's important to recognize that they are still valuable. 
How to calculate health and safety ROI 
To calculate the percentage of profit earned on every dollar spent on your health and safety program you'll need to know:
1. Net Gains: the cost savings and monetary benefits of your program (discussed in the paragraph above)
2. Cost of Investment: how much you've spent on your health and safety program
Insert these dollar amounts into the following formula to get your ROI: 

Here's an example of how to use the formula:
Your organization spent $50,000 on its health and safety program last year. Since doing so, it's saved $125,000 due to reduced injuries, increased productivity, and lower turnover.
Net Gains = $125,000
Cost of Investment = $50,000

In this example, your health and safety program has generated $75,000 in profit, which is an ROI of 150%. This means for every $1 spent on health and safety, your organization has gained $1.50 in return. 
You can also apply this formula to specific areas of your health and safety program, such as training or new equipment. You just need to know the costs and monetary benefits of those specific initiatives.
For example, an automotive parts manufacturer spent $25,403 on health and safety interventions. Most of the cost was associated with training and equipment modifications. In just under two years, their interventions produced a cost savings of $269,823 by reducing the duration of disability insurance claims and the number of denied workers' compensation claims. 
Using the ROI formula above, the return on the company's $25,403 health and safety intervention is 962%. 
Tips for investing in workplace health and safety
Each organization has different health and safety needs. But there are a few health and safety initiatives that almost all organizations will benefit from investing in. 
Health and safety training
Effective health and safety training is key to reducing injuries and keeping your workplace compliant. The type of training your employees need will depend on the work they perform in your organization. 
Here are some types of training that almost all Ontario workplaces must provide to their employees to comply with federal and provincial regulations:
Learn more about the training that employees and supervisors must receive in Ontario.
Proactive audits and assessments
Auditing your current health and safety processes is one of the best ways to figure out which areas of your business need improvement. Bringing in a health and safety consultant can help you understand: 
What changes you need to make to comply with health and safety legislation
What health and safety initiatives to focus on
How to implement best practices for your industry
How closely your organization's everyday practices align with your documented health and safety policies.
Learn more about how you can create a safer workplace with a Gap Audit.
Health and safety rebate programs
Financial incentive programs like the WSIB's Excellence Program, reward organizations for improving their health and safety practices. 
Upon enrolling in the WSIB Excellence Program, organizations receive resources and guidance to improve their workplace health and safety. In return for making these improvements, they can earn rebates on their insurance premiums.   
Since you can tie all rebates earned to specific health and safety efforts, these programs make it very easy to understand your ROI. Learn more about the WSIB Excellence Program with OSG.
Conclusion
As businesses put an even greater emphasis on ROI, being able to show the financial benefits of your health and safety spending is important. Cost savings and higher productivity are strong arguments to prioritize employee wellbeing and build a healthier and safer workplace. But it's also important to remember that keeping lives safe is the biggest return that your health and safety investment has to offer. 
At OSG, we offer a variety of tools and services to help you improve your workplace health and safety. Check out our virtual and online training or learn about our award-winning consulting.