2024 Green Book Ontario Occupational Health & Safety Act and Regulations
OSG's Green Book is the easiest way to meet the Ontario Ministry of Labour, Immigration, Training and Skills Development's requirement to post a copy of the Occupational Health & Safety Act and Regulations (OHSA) in the workplace.
Subscribe and save up to 10% off. Automatically stay up to date and compliant each year.
Quantity
Unit Prices
1 - 10
11 - 50
51 - 100
101+
One Time
$24.95
$22.45
$21.20
$19.95
Subscription
$22.45
$21.25
$19.95
$18.50
2024 Pre-Order Shipping Timelines
The 2024 Green Book is a pre-order item. Delivery is expected by the end of April.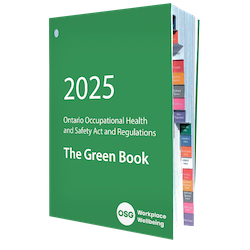 Stay Compliant with the Green Book
The Green Book contains the complete and current OHSA in a format that is easy to navigate. Quickly find the information you're looking for with colour-coded tabs and regulation-specific indexing. Use the pre-drilled how to secure the Green Book to secure the Green Book to your Health & Safety board.
The Green Book is updated each year based on legislative and regulatory changes from the previous year. The 2024 Green Book includes the Occupational Health & Safety Act and the following regulations:
Confined spaces
Construction projects
Control of exposure to biological or chemical agents
Designated substances
Farming operations
First aid requirements
Healthcare and residential facilities
Industrial establishments
WHMIS
Please note: The Green Book does not include information pertaining to mines.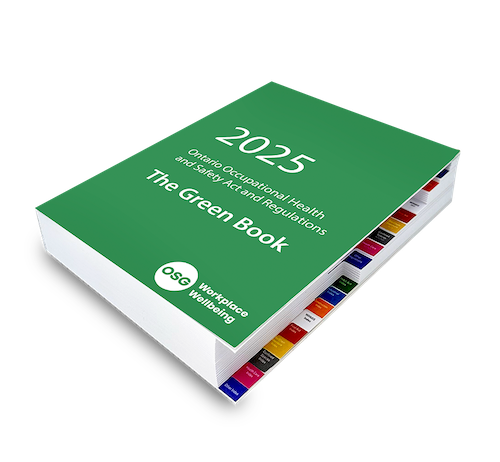 Great reasons to pre-order the Green Book today
Meet Posting Requirements
Posting the OHSA & regulations is a
legislated requirement for Ontario workplaces
Ensure workers are informed
The Green Book provides easy access to information designed to protect them
Commitment to Health & Safety
Posting the Green Book is part of maintaining 
an effective health & safety program
OSG is the only publisher that produces the Green Book with die-cut, colour-coded tabs. This unique feature makes navigating the Green Book quick and easy.
About OSG's Green Book Subsription
Subscribe today and enjoy additional savings off the one-time purchase price each year. Green Book subscription renews on a yearly basis, simply confirm your quantity and we'll take care of the rest. If your organizations needs change, its' easy to adjust your quantity or cancel at any time.
Trusted by some of the world's biggest and best organizations