How does virtual training work?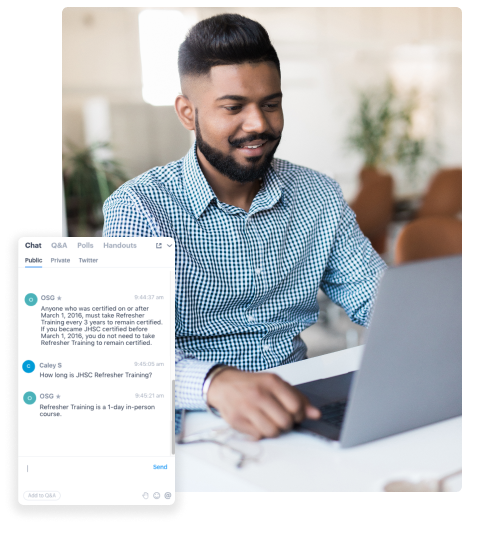 1. Book your course
Choose your training and the course date that works best for you. You can do this by visiting our course calendar.
2. Join the classroom in a few clicks
You will receive an email with a link to the virtual classroom 24 hours before your course starts. All you need to join the classroom is an internet connection and an up-to-date browser. See whether your system is ready to go.
3. Participate and learn
Train with a live facilitator as they guide you through the course content. Ask questions, collaborate with other participants, and complete your final assessment all in the virtual classroom.
Have more questions?
Get the answers to frequently asked questions about our distance learning courses on our FAQ page.
View FAQ
Why choose distance learning?
Read our article to learn more about the benefits that distance learning offers employees and employers.
Read Article
Train with an expert facilitator
Learn from health and safety experts who are passionate about their content and trained to keep you highly engaged. Your facilitator will guide you through the course curriculum, answering any questions as they come up and helping you understand how to apply what you learn to your industry.
Gain real-world knowledge
Our course curriculum is designed to give you the knowledge and confidence to implement your learnings in your own workplace. You will also have lots of opportunities to connect with other participants in the virtual classroom. Through practical assessments and collaborative activities, you will gain the skills you need and be ready to use them.
Experience the convenience of virtual training
Here to Help
Our Client Success Team is available for live troubleshooting if you run into issues.
Easy to Use
No need to download additional software. Simply open your web browser and you're ready to learn.
Tools & Resources
Recieve learning materials and resources that you can use even after your training is complete.
What Our Learners Are Saying
"The facilitator was fabulous. They handled the online platform seamlessly. I felt engaged and connected (not easy to do when everyone is remote). Personal stories and experiences were very informative and helped to bring the information to life. I really liked the format and the amount of communication. All in all a wonderful experience."
"I enjoyed the virtual training format. The facilitator was able to keep it very engaging and interactive even though we weren't all together. I was impressed that they were able to keep track of all of the participant questions in the chat. The info presented was relevant to the real-world and also to the exam."
Trusted by organizations of all sizes